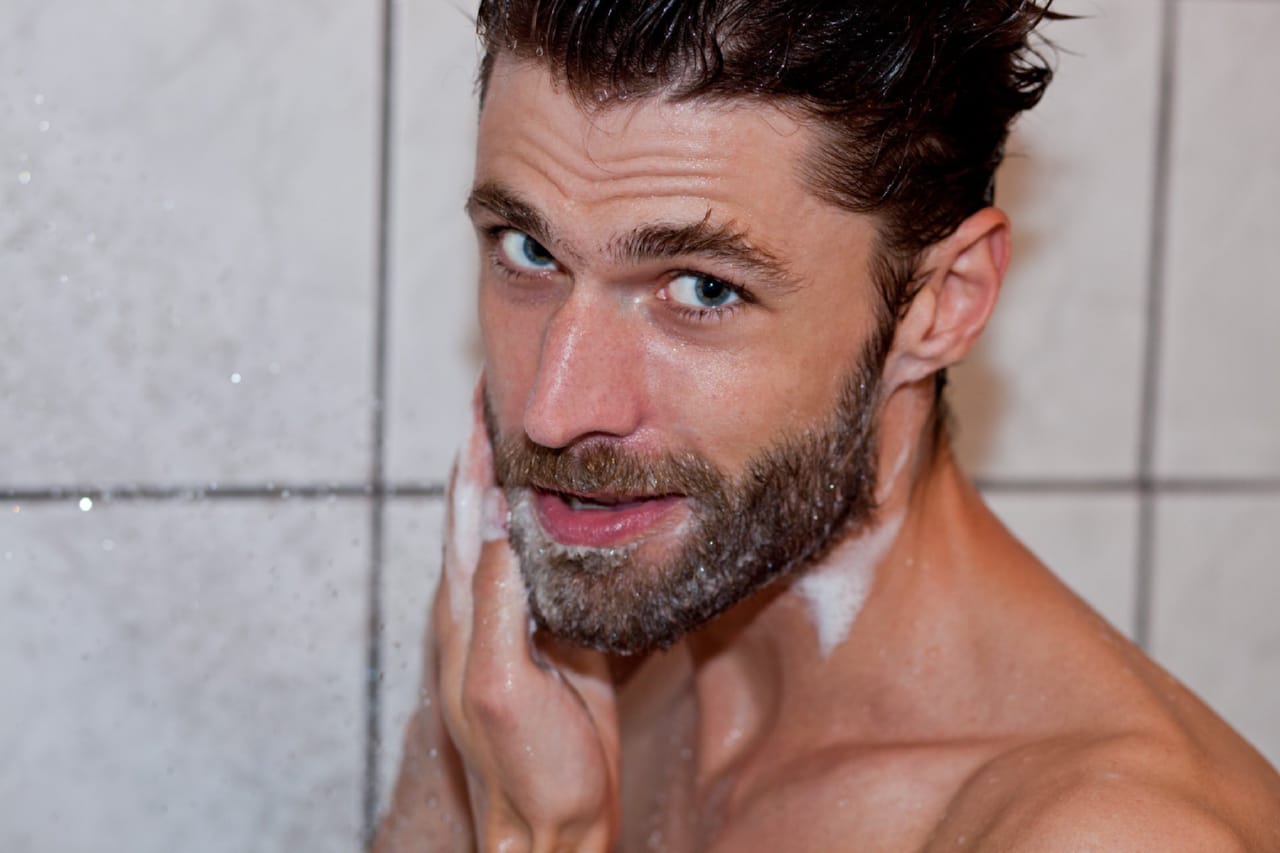 Washing the beard is an important and natural procedure, just as common as washing the head. There are no special difficulties and secrets in this process. The main rule is to use special products. Since the bristles on the face have a different structure from the hair on the head, it is not recommended to wash it with the classic shampoo.
If you neglect this rule and regularly wash your beard with detergents not intended for this purpose, this will lead to the washout of natural fats and dryness of the skin in the area of hair growth. The bristles will become prickly, with split ends. Over-dried hair will start to break and fall out.
All washes, even plain water, can make your beard dry. To fix this problem, hair should be washed with a special cleanser, such as one containing Provitamin B5, wheat protein, and other caring ingredients. On what shampoo to wash your hair with and how often, we'll discuss below.
How do I wash my beard to keep it soft?
You should wash your beard with a special shampoo that gently cleanses the hair and skin, does not dry and has a softening effect, moisturizes and strengthens the hair. These products do not wash away the natural fats, but work together with them. After their application the beard becomes smooth and manageable.
The distinctive features of such products are:
good cleansing effect;
complex effect on hair and skin – moisturizing, nourishing, softening;
nourishing hair follicles;
strengthening mask effect;
maximum natural composition – without aggressive ingredients.
Shampoos for the beard allow you to clean the hair and preserve the useful skin fats at the same time. But there are cases where the use of special cleansers is not necessary (although desirable). We are talking about the owners of short beards. Such men can afford to wash their beard with classic shampoo. Although it dries the skin, the sebum produced during the day will be enough to restore the fat balance. The main thing in this case is to keep a gap of 3 days between washes.
How often should I wash my beard?
Every man has his own individual beard care ritual, but on average it is recommended to wash it 2-3 times a week. This frequency of washing ensures that the beard is soft and nicely scented without the risk of drying it out. Men with oily skin or a long beard may be advised to wash it 3-4 times a week. Gradually each beard develops his own regime of care for his bristles, depending on many factors.
By the way, the shampoo for the beard can be useful for washing your head. Flawlessly suitable such products and for cleaning mustaches. But the opposite rule does not work – shampoo for hair on the head of the beard is not suitable.
Throughout the day, the skin produces a unique secretion, self-moisturizes and protects itself. If you deprive yourself of this lubricant daily while showering, the barrier provided by the secretion is destroyed. As a result, skin becomes vulnerable to germs and impurities. It is therefore necessary to take good care of your facial hair, washing it once every three days with a shampoo or natural soap designed for this purpose.
How to wash your beard properly?
The main tip is to use shampoo, soap or shampoo-conditioner for beard. A small amount of such a product should be applied to a wet beard, massage until a thick lather is obtained and rinse thoroughly. Then it is enough to blot the hair with a towel, gently moving it from top to bottom. You should not ruffle them randomly with a towel, as this can damage the hair, causing hair breakage, splitting at the ends and sticking out in all directions. If necessary, you can dry your beard with a hair dryer, but only at a gentle temperature.
For complete care of your beard after washing it, it is recommended to apply a special oil. It produces a softening and moisturizing effect, makes your hair shiny and strong, helps to tame your beard, provides it with nutrients and prevents skin irritation. Rub a small amount of oil in your palms and apply it to slightly damp bristles all over the length.
To give your hair the right shape and full care, you can use a beard balm instead of the oil. Its composition additionally includes purified wax, which provides a natural fixation of hair. The balm is ideal for owners of long beards – about 7-10 cm and more. It perfectly softens the hair, visually gives the beard volume, relieves itching and inflammation, and most importantly – it helps to style the beard easier and maintain its flawless look throughout the day.
After applying the oil or balm you should carefully comb your hair using a comb or brush with a natural hair. When combing it is important to avoid haste and be careful. You should brush or comb your hair gently, with descending movements, modeling the desired shape.
For the beard to be a true decoration and dignity of its owner, it should be properly cared for. First of all, facial hair should be carefully and gently cleaned. It is recommended to wash the beard 2-3 times a week using a special product.
Unlike common soaps, shampoos or shower gels, specialized products for washing beards do not dry out hair and, besides cleaning, provide them with necessary nutrition, hydration and complex care. After washing it is desirable to treat your beard with oil or balsam. Fulfilling these conditions will help not only to grow a beard, but also to ensure that it is soft, silky, pleasantly scented, beautiful and well-groomed.